Lotus Grey Pink Boat Neck Cotton Vintage Dress
|
Shipping March
When you want to fall back on a timeless classic that is easy to wear, fresh and comfortable, slip into this exquisite little vintage-inspired dress. You can wear it to work, dress it up for an afternoon-into-evening event or dress it down for a casual shopping spree and lunch with the girls.
Beautiful blush pink lotus flowers with hints of dove grey float on a pool of blue. The design has an open boat neck, no sleeves and a flared below-the-knee skirt. A matching belt and hidden side pockets add to the effortless, poised look.
This adorable classic features a zipper at the back for comfort and is made from 97% Cotton, an eco-friendly, natural and sustainable fabric that will keep you cool in the hottest weather.
Additional Information
97% Cotton, 3% Elastane
Some Stretch
Pockets
Zipper at the back
MATCHING BELT INCLUDED!
Customer Reviews
Write a Review
Ask a Question
Lyn
Very good washed and ironed up nicely . Fits fairly well could be a little less flairs around waist otherwise very happy. Please continue to make clothes with cotton my pererence by far thank you
09/04/2018
Number 9 Fashion
We sure will. We will have mixes of fabric that best suits the design and the season. :-)
Grey and pink lotus dres
This is a beautiful dress! It fits well, the fabric feels great, it's comforable to wear and it has pockets! I ordered the dress online and it came within 3 days and I even got the matching belt as a bonus gift. I've always recived excellent service when shopping with number 9 fashion and can't wait for my next purchase.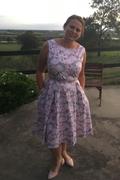 28/03/2018
Number 9 Fashion
Glad you are happy Jasmine!
Absolutely gorgeous
Beautiful print, and lovely fit. I'm a size 18, but in this dress I don't feel 'plus size', I just feel beautiful. Would highly recommend to anyone.
20/03/2018
Number 9 Fashion
Quality and style
As a plus size girl, I like being able to buy a style that fits and suits my figure type. I love the quality of Number 9 and am always getting compliments and looking forward to new styles. The service is also brilliant! Highly recommend.
20/03/2018
Number 9 Fashion
Perfect!
Excellent quality, and fits like a good dress should.
11/02/2018
Number 9 Fashion
Lovely dress - fast delivery
Ordering was easy and the size guide allowed me to get a great fit. Nicely cut and made and came very quickly. A great first experience with the site :)
23/12/2017
Number 9 Fashion