Lemon Strap Dress Rockabilly Swing Dress
|
Wear the colour of hope, happiness, energy and optimism. Yellow is fresh and fun and lemons offer that enticing sour taste, guaranteed to send shivers down your spine on a hot summer's day.
Slip into the holiday mood with our elegant 50's inspired swing dress smothered in lemons and green leaves! The strappy shoulders show off bronze suntanned arms, the dreamy skirt flares and swirls around your knees and fake fabric buttons down the front add a classy finish.
Made from 100% pure Cotton, you will always look cool and poised. Slip your mobile into the pocket, sling a small white tote, accessorize with old-gold bracelets for an all-feminine look.
Additional Information:
This dress is 100% cotton
Has pockets
Fake fabric button details
Zipper at the back
Inner Lining is 55% cotton, 45% elastine
BELT NOT INCLUDED - Please see our belt range.
Customer Reviews
Write a Review
Ask a Question
Wrong size
I really like the design and pattern of this dress, unfortunately it doesn't fit me. I bought something similar in a slightly bigger size and that was a little loose. So I decided to buy a smaller size but now I can wear it, what a shame. For this reason, I relunately giving it 2 star.
Fresh colour and very comfy!
This lemon dress is one of my favourite now! I wasn't really confident to wear yellow clothes until I found this dress and received a lot of compliments from my friends! I love retro dresses and I want to wear them comfortably. And that's what I found from this dress just like my other dresses from Number 9 Fashion. And yeah, it has pockets!! ❤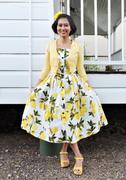 Happy customer
Received my dresses within a week. The quality of the material is great and the sizes perfect. Will definitely order from no 9 fashion again. The zip on the lemon dress was faulty though but easily fixed.
29/05/2018
Number 9 Fashion
Zippers are a pain. We see about 0.5% failure rate. We always replace, repair or refund the price of repairs as needed. Send us an email to customerservice@number9fashion.com to let us know how you repaired the dress and we can fix you up. :-)
Great style!
Beatiful design and pattern on fabric great .But needs to be fully lined .
Lemon strap dress
This dress is lovely and a good fit. I will be buying more dresses in the future. Someone from there was very helpful with the sizing, and as a result all three of the dresses fir really well. Thank you. Delevery was very promop.
So happy with my dress
So happy with my dress the fit was amazing have received so many compliments thank you
14/06/2017
Number 9 Fashion