Bright Paisley Strap Dress with Pockets Swing Dress
|
Inspired by the era of the 50's, this little classic takes you back to less frenzied days of western swing, rock and roll and electric blues.
With a demure, elegant Audrey Hepburn look, it accentuates your waistline and flares gently with soft box pleats to just below the knee. The bodice front features pretend-fabric button details and the open neckline with strappy shoulders make it ideal for a summer's day outing.
You will love this timeless paisley design in tones of blue, coral, black and white with huge blossoms scattered around for the ultimate girly-look.
Pair with barely-there high heeled sandals in silver, serpentine silver bangles, dangling earrings and a mini silver clutch to complete the look.
Additional Information:
Bust has 4cm give and the waist has 2cm give due to the fabric

This dress is 97% Cotton, 3% Elastane
Has pockets
Pretend fabric button details
Zipper at the back
Inner Lining is 55% Cotton, 45% Elastane
BELT NOT INCLUDED - Please see our belt range.
Customer Reviews
Write a Review
Ask a Question
Paisley dress
I have purchased 9 dresses so far. Very happy with them
Great design dress
I was so happy when this dress came within just 3 days after I ordered it. And when I tried it, I was even more happy because it fits me perfectly. The fabric feels nice, and the colour and pattern looks pretty. The cut is just what I wanted. I definitely want more dresses from Number 9 Fashion. Thank you!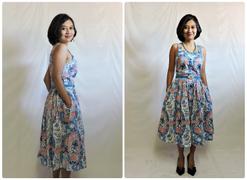 23/04/2018
Number 9 Fashion
Thanks Neno! Looking Fabulous!
Great value and a beautiful dress❣️
This dress is very comfy & I was of course super delighted to grab it at a bargain price. Number 9 Fashion is now a favourite of mine
Swing dress
Easy to order. Arrived within days. Beautiful material. Extremely happy with my purchase. Will definitely buy again
Excellent service and good quality dress
Service is excellent. The dress is good quality... bought extra for my sister too when the price become discounted one. Thanks
Bright Paisley Strap Dress
Excellent customer service and very quick with delivery. The print is gorgeous, and quality great, however I found the fit in the top of the dress awkward-it is cut too low under the arms revealing the cups of my bra and the placement of the straps doesn't hide my bra straps either. The front also seems to have too much fabric and bows out at the top between the straps. It will require a dressmaker to alter it to fit so I can wear it.