Blue & White Polka Dot Halter Top Vintage Dress
|
***ONLY S & XL LEFT***
Love your blue jeans but want to give them a break? Replace them with a striking blue summer dress that will make you feel super sophisticated, feminine and the centre of attention.
The backdrop is a bold, royal blue colour, contrasted with fun white polka dots and accented by four large white buttons on the bodice front.
Our vintage-inspired number features an easy-to-wear halter neck design that ties off at the back in a huge, fun bow. The skirt is fitted at the waist and drops to knee length in a full, flared swirl that swings elegantly as you move. A unique elasticated gathered design adds a charming finish at the back, accentuating your golden summer tan on shoulders and arms.
This delightful dress makes a classy statement all on its own! Keep the look simple with a white belt, tiny white wristlet bag and elegant white sandals.
Side Zip
No Pockets
75% Cotton 25% Elastane
Suitable for breast feeding
Knee Length
Elastic in rear
Customer Reviews
Write a Review
Ask a Question
Nice and comfy dress!
Another dress from Number 9 Fashion. I've never been disappointed with their dresses. And this one has a beautiful design, nice fabric, and very reasonably priced! One of the reasons I came back 3 times within a month is their sizes! Very accurate and friendly even for a petite girl like me. So I'm always confident to buy and wear their dresses again and again. Thanks Jenny and Number 9 Fashion!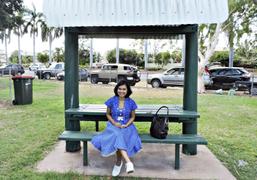 06/05/2018
Number 9 Fashion
Awesome dress.
Looks super pretty, and very comfortable and cute. 10/10, Number 9!